Schenck receives ISU award for leadership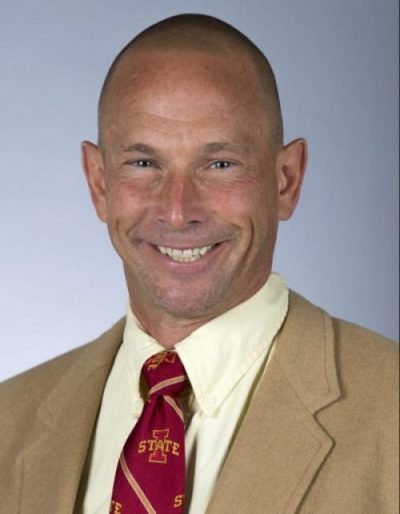 Hal Schenck, professor and chair of the Department of Mathematics, was selected as the 2019 recipient of the ISU Award for Early Achievement in Departmental Leadership. The award was presented at an event hosted by President Wendy Wintersteen on Sept. 23, 2019 at the Memorial Union.
Schenck was selected based on his work in advancing the department. Under his leadership, external funding of the department more than doubled over the last two years. Six department faculty received prestigious Simons Collaboration grants in 2018, more than any other university. He drafted and serves as co-PI on a $1.5 Million National Science Foundation research training grant, the largest grant in department history.
Programs and special projects have flourished in the last two years. A new coordinated calculus initiative created curriculum consistency between all calculus classes and instructors, enabling collaborative study and increased student success. A new graduate certificate program designed to help underserved students build the skill set to succeed in graduate school launched in 2018.
Schenck was recognized for his mentoring of junior faculty and commitment to both faculty and student success. A collaboration with the ISU Veterans Center led to the development of Math Boot Camp, a program that helps students who are returning to school after military service become reacquainted with the mathematics needed for college success.
He also created and nurtured key relationships with alumni and friends of the department, securing the first seven figure donation in departmental history. Scott Hanna's generous gift established six new named positions, which will help Iowa State recruit and retain world-class faculty.
"In just two years, Hal has engineered tremendous positive growth in the department," said Beate Schmittmann, dean of the College of Liberal Arts and Sciences. "His vision, drive to succeed, support and mentorship have empowered faculty and staff to launch path-breaking initiatives with incredible momentum and focus."