Changing the World with Mathematics
By Emily Carreon
Blake Heimann ('17 mathematics, economics) considers attending Iowa State University one of the most important decisions of his professional career. From gaining connections at an Iowa State career fair, to working three different internships, to moving from New York to London, his experience during and after college was nothing short of an adventure. Now, as an alumnus of Iowa State, he understands his impact on the world and how the university prepared him for life after graduation.
The flexibility of a dual degree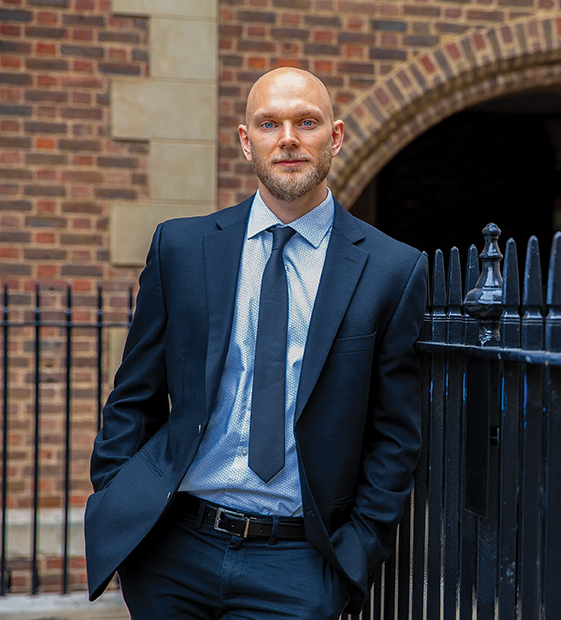 As a freshman, Heimann was originally enrolled in the College of Engineering with a major in construction engineering. With interests in hands-on work and solving complex problems, he considered pursuing a career in a mechanical field. Heimann's father had a similar job, so construction engineering felt familiar and comfortable. But while an engineering degree presents a very direct career path, Heimann learned that an economics and math degree would provide him with the flexibility he desired.
"Having the flexibility of the math and economics degree really helped because there isn't a specific job that you're guaranteed to be lined up for when you walk away with those degrees," Heimann said.
Soon after declaring a mathematics and economics double major, Heimann took the opportunity to explore the different clubs and extracurriculars the majors offered. Internships were also a priority.
"Joining these clubs and getting these internships exposed me to what the world outside of academics looked like in these spaces," Heimann said. "I also tried to get an internship every summer because that was really my validation for figuring out, 'OK, is this the career trajectory I want to go on?'"
With internships in construction engineering, real estate, and insurance, he had broad experiences and a diverse skill set following graduation from Iowa State.
"I'm a strong advocate for people interning while at university. It's a great way to help fund your lifestyle as well as give you good experience to build on for your career later," Heimann said.
After Heimann graduated from Iowa State in 2017, he devoted his time to finding a job. An Iowa State career fair landed him a position with TD Ameritrade. He relocated to New York and worked in a rotational program aimed toward analytics. This role piqued his interest in finance.
"Some of that job was client analytics to support their product department as well as emerging technologies, so while that was product oriented it exposed me to machine learning and the AI space," Heimann said. "Then when I moved into the financial risk department, that's where things really clicked."
'Spinning plates'
Now, as a senior associate of quantitative research at WisdomTree Asset Management, based in London, Heimann works in a role he is passionate about and where he feels supported. His team works to create systematic investment strategies that come in the form of exchange traded funds (ETF) or exchange traded products (ETP). His role is primarily research-based while also interacting with clients through presentations and keeping them updated via other materials.
When it comes to Heimann's day-to-day schedule, every day presents a new challenge. He uses the term "spinning plates" to describe the necessity for managing multiple objectives.
"It sometimes ends up being a bit of a chaotic day, but it's a good type of chaos because the markets are unpredictable, and you have to be willing to adapt. It really keeps you on your toes," Heimann said.
Heimann's firm was supportive when he decided to uproot his life in New York City and move across the ocean to London. From juggling moving costs to finding a temporary living situation, Heimann praises his firm for assisting him through the transition.
"In general, it was a good experience to have. It takes a lot to drop everything and move to another country. I'm very grateful to have the support that my firm gave me with making the process easy," Heimann said.
Realizing your impact
Heimann commends Iowa State for preparing him for a successful future. Now, he encourages current Iowa State students to grasp as many
opportunities as possible.
"Collaborate as much as you can because you're not going to get far doing things alone," Heimann said. "The second thing is to get out and get exposed to how you can impact the world with the things you're learning at university."