Seeing the forest for the trees
Author: Lona | Image: Lona
When Misa Hamanaka ('20 mathematics) attended the Joint Mathematics Meetings (JMM) in San Diego, California, this past January, she wasn't your typical student presenter.
Hamanaka's goal is not to enter academia or industry – she wants to teach middle school or high school math. She said she was nervous to present mathematics research to a group of mathematics faculty and graduate students from institutions around the world.
But undergraduate research was on a long list of experiences Hamanaka was determined to take part in at Iowa State. A driven and creative student, Hamanaka looks at each new experience with an educator's eye for learning. JMM was no exception.
"Math education is so powerful that it can cause people to not want to do the things they want to do, but it also has the power to empower people. It's like a double-edged sword. I want to be part of making sure it's used correctly."
"It was even more than I had hoped for. Not only did it connect me with other people, but it gave me a lot of inspiration for lesson planning. There was a math art exhibit, and I didn't know you could crochet a hyperbolic function," she said.
Hamanaka eagerly cited other creative applications of math she saw at JMM, such as a Nim strategy game, interactive topological problems and even a presentation on the sounds teacups make when tapped at different angles.
In fact, Hamanaka was so inspired that she may have been the only participant enthusiastically asking JMM presenters, "Have you tried this in secondary education?"
A special scholarship
Hamanaka explored three Iowa Regent institutions during her college visits, and said she felt most confident that Iowa State was where she could achieve her goal of becoming a teacher, participate in multiple activities like research and still graduate in four years.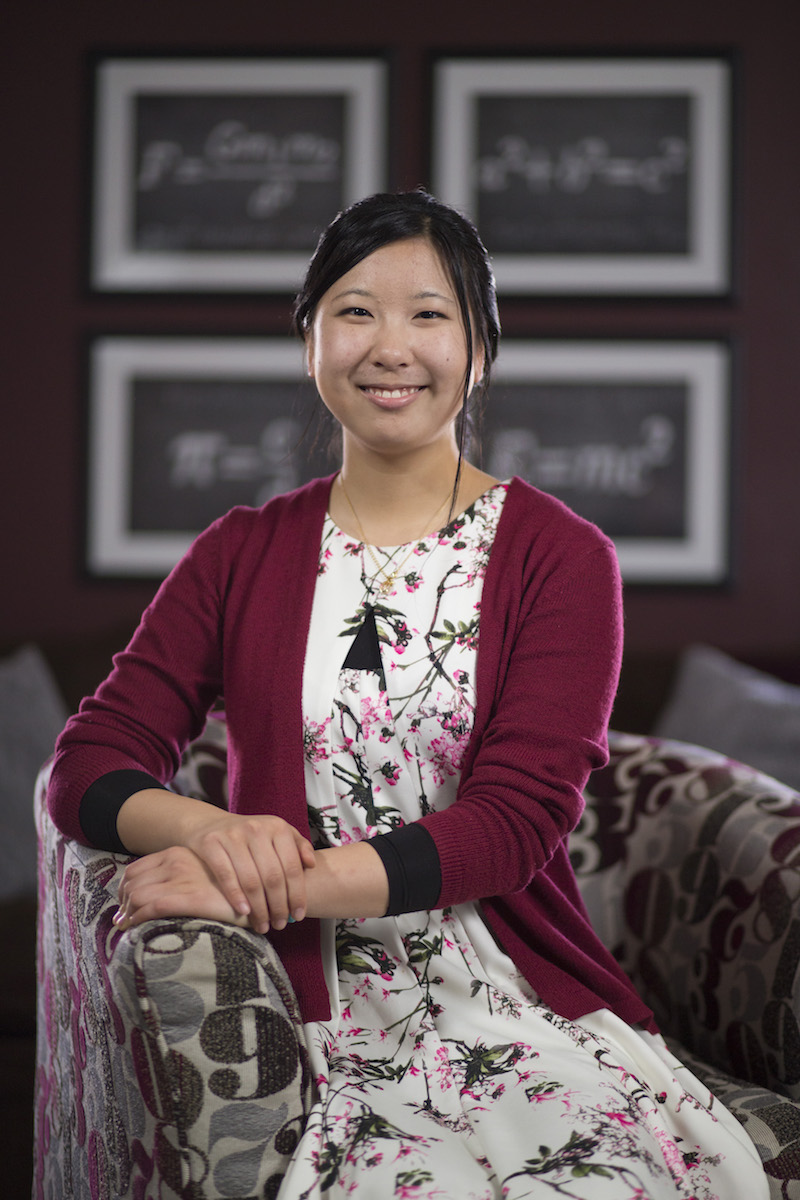 She has already received more support than she could have imagined.
Hamanaka was awarded the Fred Wright Mathematics Endowed Scholarship, established by Fred Wright, an Iowa State mathematics professor who loved teaching and working with students. One of several Department of Mathematics scholarships available to undergraduate students, it has helped her start achieving her goals early in her academic career.
"It was really, really special because I wasn't expecting to get anything in the first place," she said. "The scholarship helped me to make sure I could do everything that I wanted to."
Eye-opening research
She signed up for research through the Honors Program and was paired with Steve Butler, the Barbara J. Janson Professor in the Department of Mathematics and associate professor of mathematics. For their graph theory research, they first began looking for a problem to solve so they could find a solution for it. It took Hamanaka a while to adjust, and she quickly learned an important lesson she will remember for her own future students.
"It reminded me what it feels like to really, really be completely lost in the weeds," she said. "Even when you're doing math homework and you're lost – there are always videos or something you can look up, but for this I didn't know."
She has since learned. Ask Hamanaka to explain the focus of their research—the forest-building process in graph theory—and she instantly transitions into teacher mode, digging out paper and a pencil from her backpack.
"Misa's enthusiasm for the subject matter is infectious and you cannot help but be excited to do math when you are working with her."
"If we have an original graph, the forest building process is where you have a graph, take off all the edges, order them in whatever order you want and put each edge back individually as long as both connecting vertices have not been seen yet," she said. "In general, there are graphs that look really different, but generate the same number of trees and we wanted to know, 'Why is that, and are there more examples?'"
Butler said Hamanaka's ability to ask questions and carefully carry out ideas with enthusiasm made her a strong researcher. She will participate in a Research Experience for Undergraduates (REU) this summer at Illinois State University.
"Misa's enthusiasm for the subject matter is infectious and you cannot help but be excited to do math when you are working with her," Butler said. "Indeed, this project was one of the ones I have had the most fun doing in recent years."
The power of math education
Many math education majors do not pursue undergraduate research, Butler said. That's partly because of the extra demands of teacher certification programs and a shortage of opportunities for all students to engage in research, something the department is working to change.
"Doing research is important for everyone, even teachers," Butler said. "Mathematics is not limited to understanding how to perform computations, but it helps you understand how to think in new ways and answer questions no one has asked before. Doing research helps people discover what mathematics can be, and for teachers this can help them to communicate the love of learning and thinking to their students."
Hamanaka hopes to help her own future students discover the power of math.
"If you have a person with strong math anxiety, it can really affect how they view the world," Hamanaka said. "Math education is so powerful that it can cause people to not want to do the things they want to do, but it also has the power to empower people. It's like a double-edged sword. I want to be part of making sure it's used correctly."