Weber appointed new chair of mathematics department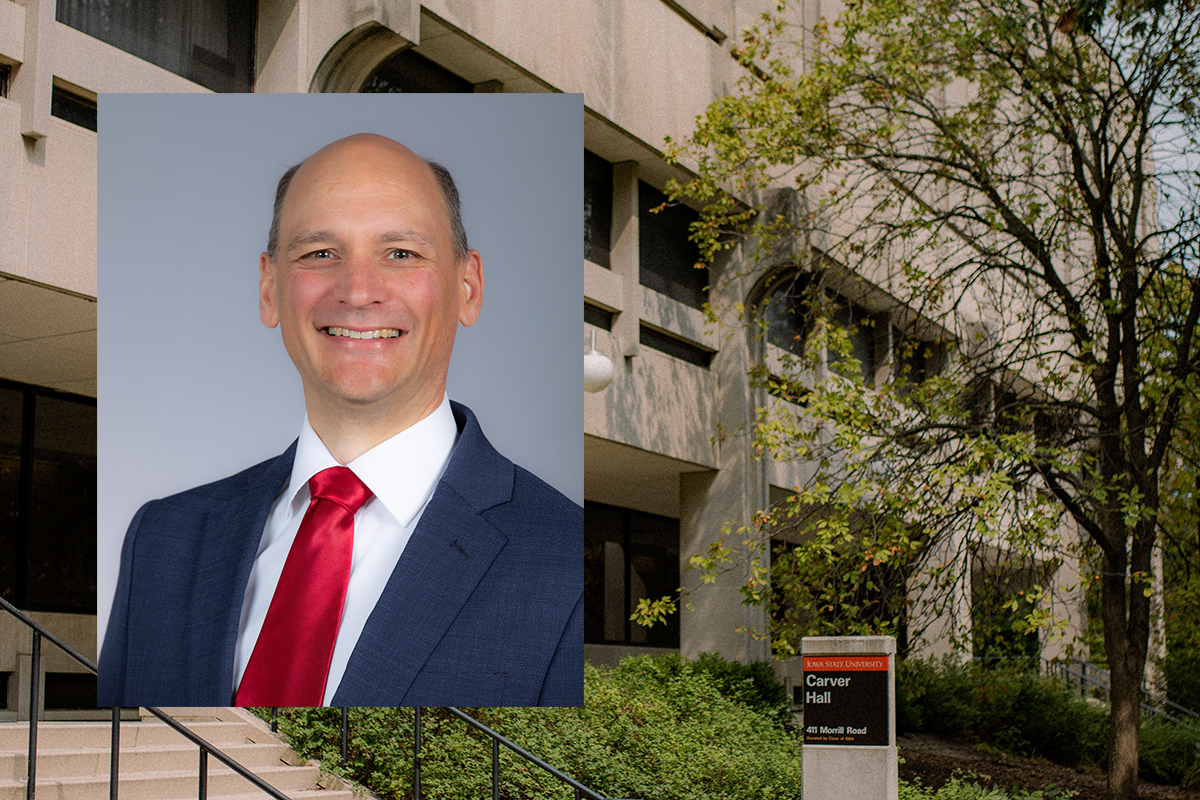 Iowa State University's College of Liberal Arts and Sciences announced Eric Weber, professor of mathematics, was appointed chair of the Department of Mathematics.
Weber's five-year appointment began July 1, 2022.
"Eric is an accomplished mathematician who has built strong interdisciplinary research programs," said Beate Schmittmann, dean of the College of Liberal Arts and Sciences. "He has been a leader in developing our new data science degree, and, as the next chair of the Department of Mathematics, he will be leading a large, complex department distinguished by its excellent research programs and its university-wide teaching mission."
Weber, one of the founding members of Iowa State University's Theoretical and Applied Data Science group, is highly regarded for his interdisciplinary work with faculty and students across campus on strategic initiatives like the Dependable Data-Driven Discovery Institute, Midwest Big Data Summer School, and high-profile external grant funding. He played a key role in establishing Iowa State's undergraduate data science program – one of the first in the nation.
With an eye to innovation, Weber sees the Department of Mathematics as a keystone to help drive discovery in nearly any scientific field.
"Science is always mathematical in nature, and the evolution of science and technology is now much more data-driven," Weber said. "We in mathematics have a big contribution to make."
The mathematics department also plays a key role in Iowa State's teaching mission, delivering more than 60,000 student credit hours in some years.
"The mission starts with teaching the future workforce," Weber said. "I like to think about mathematics as a language to communicate technical ideas. I want to equip students with skills not just to solve problems, but also how to effectively communicate those solutions. No matter how science and technology evolve over time, we still need to communicate these ideas, and mathematics is the foundation."
Weber's research focus areas are data science and analysis, specifically harmonic analysis with applications. His prolific success in securing funding includes multiple grants from the National Science Foundation and from organizations like the National Oceanic and Atmospheric Administration.
In addition to his outstanding array of published works, Weber's roles in service have contributed to the success of national journals, college governance, student and faculty success. In his new role as department chair, he hopes to continue to grow the department's research and teaching reputation, explore new strategies in recruiting and retaining students and faculty of color, increase enrollment and student credit hours, and increase interdisciplinary research.
"I look forward to helping faculty, staff and students reach their professional goals," Weber said. "My focus will be on supporting faculty in the development of their teaching and research programs and engaging students with value-added course offerings. The success of our students and faculty leads to the success of the department, and in my view, the college and university."
Weber joined Iowa State in 2003. He received his master of arts and Ph.D. in mathematics from the University of Colorado, Boulder.